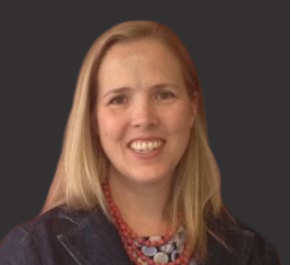 Jen Vanmeter
Executive Leadership Coach
Jen Vanmeter is a proven leader with over 20 years of experience in achieving business results by engaging stakeholders, gaining consensus for action and generating motivation for implementation. A graduate of an ICF-certified leadership coaching program, Jen has 8 years of one-on-one executive coaching experience. She is completing a team coaching program in the summer of 2020 through Corentus, Inc., a Boston-based firm specializing in team performance.
In her coaching and consulting work, Jen pulls from her business acumen and experience in strategy development and executive coaching to draw out clients' wisdom and identify bold new ways forward that will actually stick. Her passion is uncovering diverse perspectives, reframing thorny issues, and helping divergent parties get on the same side of the table to craft surprising solutions. Jen designs and delivers curriculum for leadership development programs for the Navy, other federal agencies, and private firms including Markon Solutions. She
Jen has a Master of Business Administration from the Robert H. Smith School of Business at University of Maryland and a Bachelor of Arts in International Studies and French from Miami University in Oxford, Ohio. Her certifications include: Leadership Coach; Georgetown University School of Continuing Studies, Information Technology, Infrastructure Library (ITIL) Foundation Level, Certified Professional Facilitator, International Association of Facilitators (IAF), and Certified in Administering and Coaching Leadership Circle 360°TM. She will complete a program on team coaching from Corentus in summer 2020.