Markon's Equity and Inclusion Strategy: Comprehensive Commitment. Evidence-Backed Action.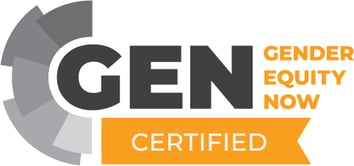 Diversity, Equity, and Inclusion (DEI) have always been part of our organization's values. In 2020, we decided to take this commitment one step further by becoming GEN-Certified.
The GEN Certification is the gold standard for intersectional gender equity in U.S. workplaces. Organizations that participate are assessed against over 200 indicators of employee sentiment and fairness of processes. To achieve certification, businesses must optimize their current policies or implement new practices to counter the impact of unconscious bias in the workplace.
Through this process, Markon confirmed that many of the practices we have in place already foster equity, and we added some new processes to ensure we sustain equity as we continue to grow. Our inclusion-centered approach is comprised of the following best practices:
Recruiting & Hiring
Markon intentionally advertises job openings on platforms that serve populations that are underrepresented in their fields.
We audit our job descriptions for potentially biased language.
Markon practices a blind application review process, in which demographic information has been removed from applications before they are reviewed by a selection committee.
We put representation targets in place to ensure our candidate pool is gender and race balanced before selecting candidates for interviews.
We standardize our interview process to eliminate the biased impact of informal interviews.
When making an offer, we proactively provide an opportunity for the candidate to negotiate. Women and candidates of color negotiate more often and win more of their negotiation 'ask' when invited to negotiate.
Professional Development & Representative Leadership
Markon has implemented a structured mentorship program, including a matching process that ensures employees of all backgrounds have equal access to senior mentors. Men have traditionally had access to more senior mentors who have sponsored them into senior roles, while women have historically had 'horizontal' mentors. By intentionally matching mentors and mentees, we ensure that everyone has equal access to mentors who can turn into sponsors.
We provide clear, transparent career paths for moving into leadership positions. All employees are invited to collaborate with their manager on a development plan, which may include training, support to attend conferences or other learning opportunities.
At Markon, we know that diverse leadership doesn't just happen on its own. So, we've developed an inclusive leadership strategy for diverse representation that includes a method for identifying, recruiting, and developing diverse talent, starting with entry-level employees.
Family Friendliness & Flexibility
We provide opportunities for employees to work remotely and on flex schedules.
Markon employees of all genders are eligible for caretakers' leave.
Workers on leave are considered for promotion.
In addition to FMLA and PTO, Markon offers "Safe Leave" to any employees who are experiencing domestic violence and need time off work to make arrangements to be physically, mentally, and emotionally safe.
Markon's headquarters office includes a spacious, comfortable nursing room, with refrigerators, for new parents to have privacy.
Pay Equity
We do not use performance evaluations or self-evaluations to determine pay increases, as this practice compounds the pay gap over time. The criteria for pay increases and promotion are transparent for each position at Markon and are not dependent on subjective assessments.
We have performed an intersectional pay gap audit to ensure we achieve pay parity.
Our Pay Equity Strategy relies on data from the Economic Research Institute to ensure we are offering fair wages across the board, and pay decisions are standardized.
We state the salary range for a position before making an offer.
We do not ask questions about salary history.
Culture of Inclusion & Transparency
We observe Collective Intelligence Meeting Behaviors that foster environments in which all employees feel safe and encouraged to offer their insights and get recognized for their contributions.
Our meetings are held during hours that accommodate the schedules of working parents and caretakers.
The 200 indicators that GEN assessed us against in the certification process have all been shared in the form of a report that is available to our employees. Our business thrives because we trust our employees, and we want them to feel the same sense of trust in the organization.