xFAR™ is Markon's industry-tested solution for updating a Government Agency's Supplemental Federal Acquisition Regulation (FAR).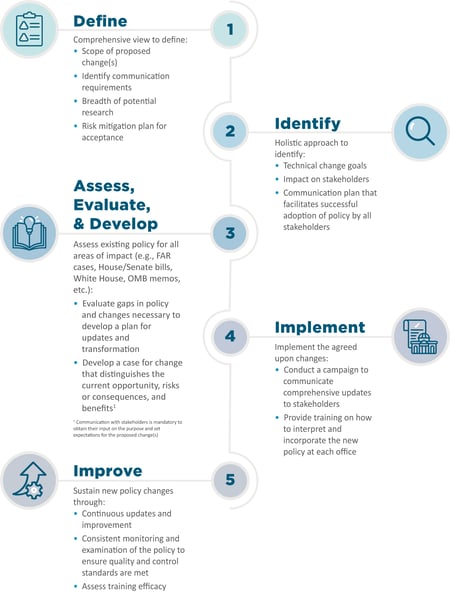 xFAR™ 5-Step Methodology
Our proprietary 5-Step Methodology is the result of rigorous trial and error, and diligently applying lessons learned from our experience delivering rulemaking for a top federal client.
xFAR™ Checklist
Our 5-Step Methodology has helped agencies overcome congressional scrutiny, Office of Inspector General (OIG) audits and effortlessly develop agency policy when new government guidance is released. Under girded with project management and change management best practices, xFAR™ provides our clients with a seamless way to implement rulemaking so that they can stay focused on their mission.
This practical and repeatable system utilizes a custom checklist that outputs a xFAR™ Management Plan and a xFAR™ Standard Operating Procedure (SOP) to assist agencies in delivering rule changes more efficiently and with less stops and starts. Markon's xFAR™ solution increases the odds for approval, helps gain stakeholder buy-in, and follows a thorough communication plan for holistic success.
Markon's xFAR™ 5-Step Methodology has effectively reduced the time it takes for a rulemaking package to be sent to the Office of Regulation at Veterans Affairs by more than 50 percent (from 90 days to 30 days).
"

The Markon team has been a tremendous help in resolving some of our problem areas and helped research and develop a sound solution.

Markon's responses to requests for information and assistance has allowed me [Director] to provide well-researched, detailed information to my leadership in a timely manner.